Louise Foletta
Firefront, 2009  
watercolour on paper
Collection of the artist
This pair of works were created in the months shortly after the fires from photographs that the artist took of the fires whilst defending her property during the night of Black Saturday.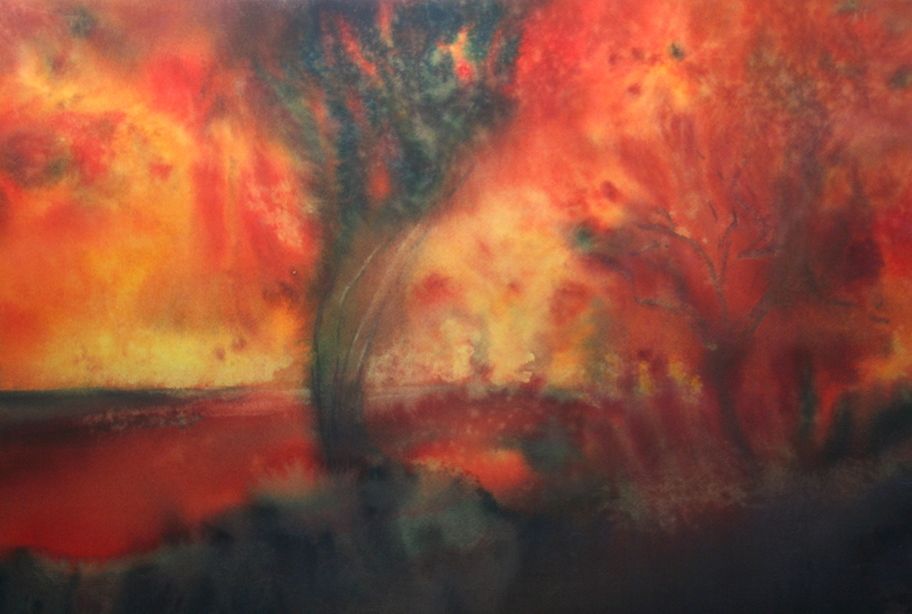 The artist has explained that taking the photos and concentrating on the visual effects of the fire and focusing her attention onto her art practice allowed her to get through the experience and provided a protective mental barrier through which she filtered the experience.
As the fire approached across the flats day turned to night and the noise was unbelievable. We took refuge in the house and watched in amazement as the landscape we knew turned into an unbelievable and unwanted spectacle as the fire raced across the flats. Images of hell as depicted by medieval artists came to mind.
I started thinking I must paint this but no one will believe it, it then dawned on me we must photograph what we were seeing. I had to hunt for the camera in the dark while wondering if we were safe or should move to a different part of the house.
We were slightly comforted by the fact that the house was concrete and we had water spraying down the walls and this was the safest place to be right now. Contradictions were raging within me with my heart beating so hard with fear and yet a dreadful excitement and disbelief seeing the landscape so changed and changing.